I am back from my crazy, whirlwind of a weekend.
Actually I was back yesterday, but not really "back" mentally.
It was an exhausting weekend.
Pics to come on that later this week!
For today I am linking up over here for Me, Myself, and I.
I mean, who doesn't love to talk about themself?
I will be the first to admit I love talking about myself
Until someone puts me under a spotlight
Thennnn you can talk about yourself and I will listen
But today I'm in the mood to talk about myself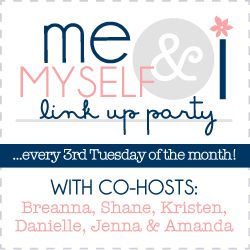 1. When you are feeling down, what do you do to pick yourself up?
When I really need a pick me up I will hop in my car and just drive around. And listen to sad songs. This probably sounds like it wouldn't help but it actually does. Especially after a bad break-up. I'll listen to love songs or break-up sad songs. For some reason it clears my head. I used to go jogging but I don't do that anymore ... laziness at it's finest right here.
2. If you had to live in a different time period which would you prefer?
I would love to live in the 20's. I just think it would be so fun to go back and experience the "roaring 20's". The men were actually gentlemen, most ladies were appropriate. It would be great to be able to go back and experience all of that, even if just for a day.
Preferably for just a day or two.
And then I'd need to come back here to my technology.
3. What is the most creative Halloween costume you've ever worn?
I don't really get "creative" for Halloween. Normally I just go out and buy a costume.
Two Halloween's ago I was Lois Lane and my ex-boyfriend was Superman. It was cute.
This year a friend of mine and I are going to dress up.
Suggestions would be appreciated.
Were going for showing skin this year.
Because what else would you be for Halloween besides skanky?
4. What are five weird things we wouldn't know about you without asking?
1. I hate feet ... and frogs
2. Halloween is my absolute favorite holiday
3. I would prefer to eat dessert for every meal
4. I cannot leave the house without mascara on
5. I love fishing but I prefer not to get dirty or sweaty
5. What would you tell your 16 year old self?
I would tell myself to shape up because life is so much easier then what you think.
I would also tell myself that all the heartache and all the hurt feelings you are feeling now don't mean anything in the future. It sucks now but it does get better. Always.
Now go link-up and answer the questions!
And tell me what you think my friend (a guy) and I should be for Halloween!