It is Friday!
Let me reiterate that ... IT IS FRIDAY
This week was one longgggg week.
And the next 15 will be even longer.
Not that I'm counting down to the end of the semester or anything...
I have already started planning out my weekends for the next month to give me something to look forward to every week.
Don't judge.
Anyways, from now on I am going to join in on the Friday link-up called Friday Faves with the lovely Lindsey over at
The Bargain Blonde
.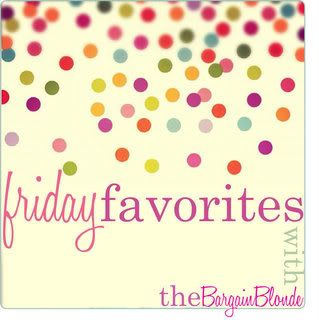 All week I have been rocking the sweats and t-shirts.
And you best believe it will continue to be this way for the next 15 weeks.
I am so in love with this song right now.
Granted, she is supposed to be country and this song is deff not sounding country ...
But I still love it
My favorite time of the day right now.
I may or may not feel as if I am back in high school with having to be at school everyday from 8-3.
Grimm started last week.
If you haven't watched it yet, do it!
You won't regret it.
Unless you don't like blood and guts
Or people who change into monster like creatures ....
Then don't watch it.
Now go link-up and join in on the fun!
Have a great weekend!